Ink to Impact: The Writing Craft Series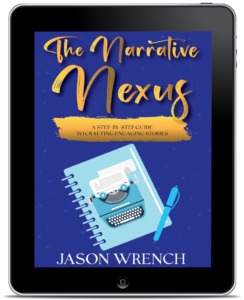 Helping Authors Navigate the Narrative Nexus
Are you an aspiring author or storyteller hoping to craft engrossing tales that keep readers interested from beginning to end? Look nowhere else! The Narrative Nexus is something we're eager to share with you. This practical framework offers a detailed process for creating gripping stories. The Narrative Nexus will assist you in constructing your narrative, creating fully realized characters, and producing memorable storytelling experiences, whether you're writing a novel or a short tale.
Making Sense of the Narrative Nexus
The Narrative Nexus is a complete storytelling tool that divides a narrative's essential components into 12 main categories. Each element, from the World Introduction through the Transformation and Return, is critical to defining your story's arc and engrossing your audience. Understanding and utilizing these components will guarantee that your story flows naturally, keeps readers interested at every turn, and provides a good reading experience.
How to Use the Narrative Nexus
The flexible structure of the Narrative Nexus can impact your writing process' planning and rewriting phases. The Narrative Nexus serves as a guide when you revise your work, assisting you in determining whether each element is adequately covered and whether any changes should be made to improve the narrative's impact and structure. The Narrative Nexus can be used as a benchmark to chart the development of your story throughout the outlining stage, providing a seamless and well-balanced narrative arc.

Unleash the Creative Potential in You
By adding the Narrative Nexus to your storytelling arsenal, you can develop the self-assurance and abilities necessary to write narratives that connect with readers, arouse emotions, and have an impact that lasts. The Narrative Nexus will be your dependable partner, enabling you to create captivating stories that engage people, regardless of your level of experience.
I encourage you to download our free book, The Narrative Nexus: A Step-by-Step Guide to Crafting Engaging Stories, to assist you in learning more about the Narrative Nexus and realizing your storytelling's full potential. This thorough book offers in-depth explanations of each component, valuable examples from well-known works like Pride and Prejudice, Great Expectations, Dracula, and The Murder of Roger Ackroyd, and practical advice for incorporating the Narrative Nexus into your writing efforts.
Ready to start your adventure via transformative storytelling? Download The Narrative Nexus: A Step-by-Step Guide to Crafting Engaging Stories right away to learn how to write stories that will have readers anxiously turning the pages.
Keep in mind that your storytelling skills can enthrall and inspire. Let the Narrative Nexus mentor you while you develop your storytelling skills.
Happy storytelling and writing!
Ink to Impact: The Writing Craft Series - Book 1
The Narrative Nexus: A Step-by-Step Guide to Writing Engaging Stories
 Helping Authors Navigate the Narrative Nexus